As of January I have been doing my last semester of college being an intern at the design studio "Beehive Design" in Toronto. Beehive recently started publishing a visual artvertorial magazine (focusing mainly on the Toronto area) called Novella. This past weekend Novella was a media partner for The Artist Project (a contemporary art fair) and I was given two tickets to go check it out. I was able to head out there Sunday and brought along my friend Lauren. Here are some of my favourite pieces from the fair that I took on my phone. Along with links to the artists.
This is a piece by Paper Bag Beers. All of their stuff was really well done and full of cool colours like the one shown in this image.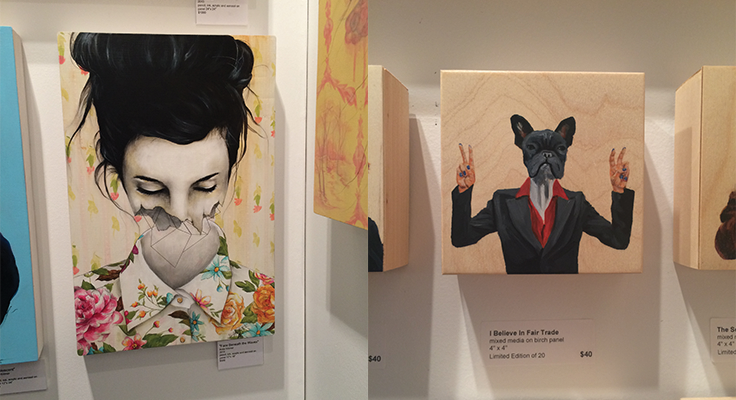 The first photo is from Andy Kittmer. I've always been drawn to illustrations like this. I love seeing hair buns drawn along with floral prints. The second photo is from Tony Taylor . All of his stuff was really neat, as it featured human bodies with animal faces. The theme I found with his stuff were political references, which is always a joy to see.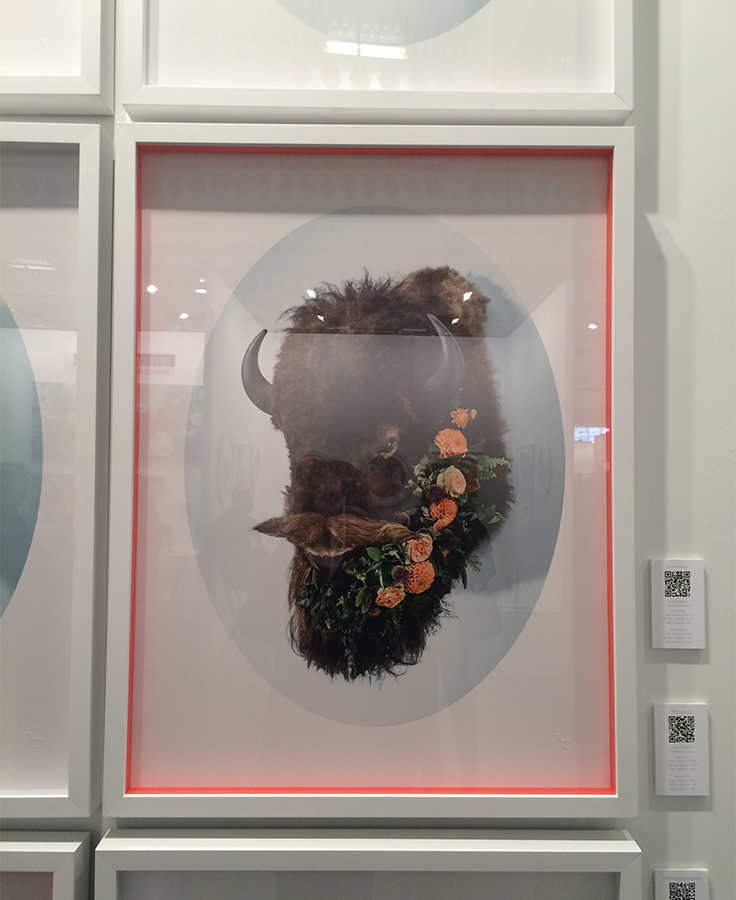 This series was by Anna Church. I am in love with her "Out of Time" series featuring bisons. She also had a little "selfie installation" going on with one of her pieces. Where you took a selfie with the bison, uploaded it to instagram using the specified hashtags and she printed it onto an instax photo to be used in a future collaboration.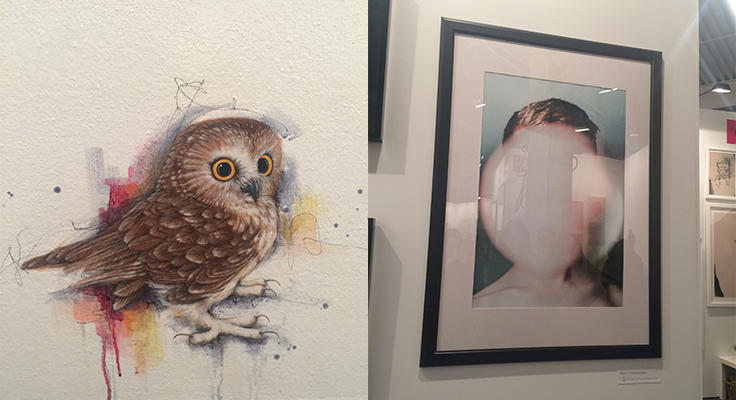 Last but not least! The little owl painting on the left is by Tammy Shane. If you know me in real life you will know I love owl things, so it is no surprise that I like this. The photo on the right is a photograph by John Lowndes. For some reason this image and how it was done just grabbed my attention. I guess I'm always drawn to the mystery of photographs where the models face isn't shown.
Going into this whole art fair I had no idea what to expect as I never heard of The Artist Project before. I for one didn't expect it to be as big and full of such talented people as it was, 250 booths to be exact. I completely recommend it to anyone who has a love for art of all mediums. Needless to say I collected 57 business cards and have started following some of the artists on instagram and whatnot.